TurboFormZ wants to provide the best service to companies using all types of equipment. We know that a lot of equipment data is still on paper and we believe we can do better. That's why we offer digital equipment inspection services for all businesses. Keep your employees safe, your equipment in good condition and your company in compliance with regulations with our online inspection system.

Why Use TurboFormZ Equipment Inspection Forms?
Due to the growing demand from our loyal customers for the development of new forms, we created TurboFormZ. It is the first fully customizable form and survey generator developed in Quebec. It is the ideal tool to perform reliable and standardized equipment inspections, which can then be easily compared to previous inspections. 
Stop Being Overwhelmed by Paper Forms: Go Digital with TurboFormZ!
Get rid of your endless inspection paperwork with easy to use online inspection forms. Your current templates and surveys can be copied into our application in minutes and inspectors can access them from anywhere with minimal training. Start saving time and money with our equipment inspection forms!
Use Online Forms for Construction and Heavy Equipment Inspections
Whether you need equipment inspection forms for periodic inspections, annual inspection or daily inspections in a facility, to verify that certain items or types of equipment do not pose a potential hazard or to verify that your protective equipment inventory is in order, we have the solution for you.
Importance of Inspecting Heavy Equipment on a Regular Basis
When working with construction or heavy equipment, safety should always be a priority. That's why regulations require companies using industrial equipment to perform regular inspections. 
Inspections must be done to identify any problems early on, and preventive measures must be taken in case of potential hazards. It's easy to get overwhelmed by the number of people involved and the number of machines, trucks and equipment that need to be checked before use on a weekly, monthly or annual basis. Fortunately, there are tools that can take the pressure off your employees and management.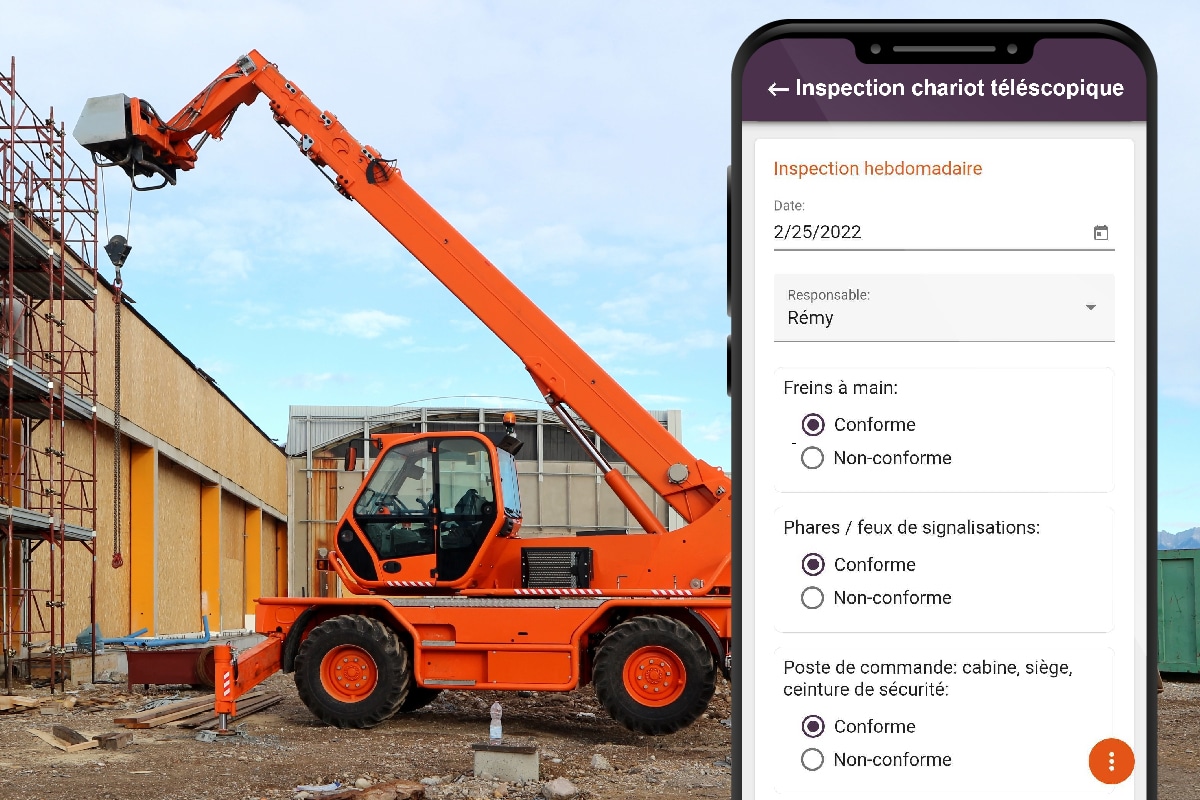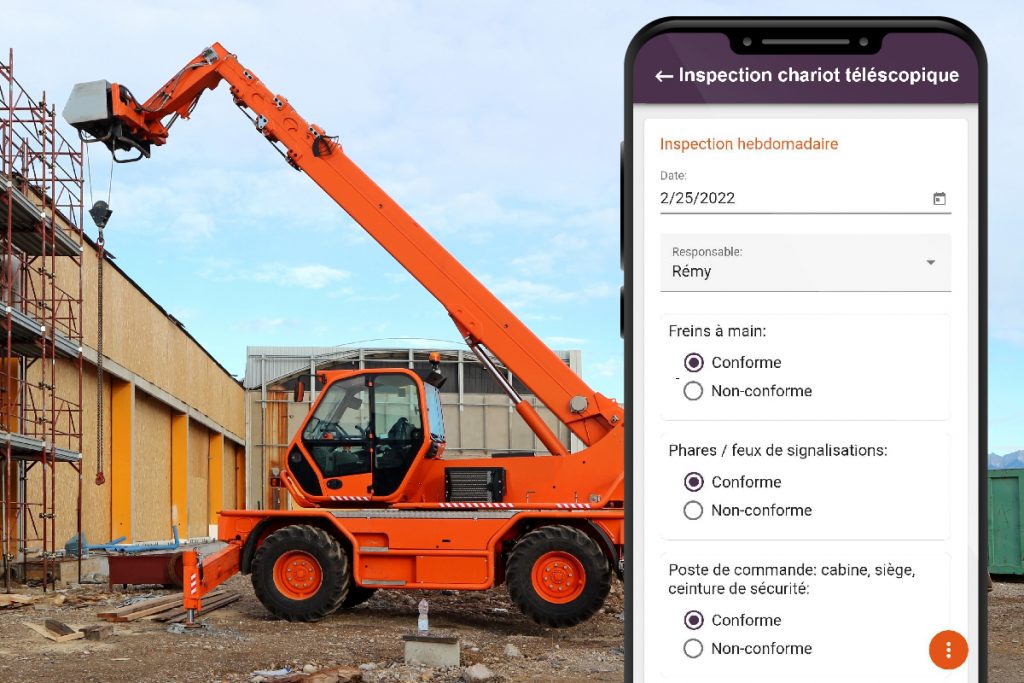 Our checklist offers a variety of benefits for everyone in your company. Whether you are an employee who regularly completes the form for daily check-ups or an administrative officer who verifies the form requirements or creates the form, TurboFormZ is perfect for you.
Easy to Use
First of all, our checklist form is incredibly easy to use. We designed it with accessibility and convenience in mind. The design is very simple, and all you have to do is drag and drop the elements you need onto our online platform whenever you need to create a new form.
Whether you need to create a safety device form, or want to make sure your employees are aware of biochemical hazards, or need hazardous equipment or protective equipment tracking forms, you can do all of this and more with TurboFormZ's checklist form.
Saves Time
Since everything is digital, not only can you save time when creating the equipment inspection form, but your employees can also fill it out in a few clicks. And, you receive the completed forms in real time. You don't have to wait for them to fill it out and bring it back to you.
This will save everyone time in the long run, even when it's time to organize the forms. Since they're all stored online, all you have to do is do a simple search when you're looking for something specific, like a piece of equipment or equipment operators, and you're done!
Helps You Standardize Your Data
One of the best features of the TurboFormZ tool is that it allows you to standardize your data. Since you can customize your forms during the creation process, you can also make sure that all forms follow a consistent design flow so that they become standard across your organization.
There's nothing worse than looking for something or filling out multiple forms that don't look the same with specific designs for each. TurboFormZ eliminates this problem with a standardized design that allows you to be more efficient.
It Will Free Up Your Employees
Since your employees use modern tools they are familiar with for a form rather than pen and paper, they will save time and can devote themselves to other tasks such as programming or controlling certain equipment or fixing malfunctions. Moreover, with such a simple design, it is easy for them to avoid mistakes since everything is done digitally.
It Will Allow You to Better Organize Your Documents
Forms with a consistent design make the organizational part of the job easier. Once everything is done, the forms need to be sorted. Fortunately, because TurboFormZ has thought of everything, it's very easy to create folders for specific parts of the business, such as mobile power equipment, hazardous conditions of equipment, or any inspection record, with a title or notice. You can then easily find your documents.
Easily Customizable
From the title to the name of the project, from the notice to the facility it is intended for, from the form instructions to the signature, you can customize your form any way you want. Simply use our online drag-and-drop platform when it's time to create a new equipment inspection form and you can design it to your liking. It will also match your current filing requirements for better administrative controls. 
In addition, it is also possible to separate the checklists. Let's say you want your floor maintenance department to look for broken equipment and your security department to complete the annual equipment inspection and certification, that's totally possible. You can also send them to a specific group of people, either with our online tool or with your favorite messaging application, after exporting the forms in PDF format.
Safe
Our online platform is highly secure and you can trust that your information will remain confidential and that only you will have access to it. Your confidential data will remain out of reach of anyone who does not have access to the platform. 
The original documents will always be on the cloud, and whether you're onsite or thousands of miles away visiting family, you'll always have access to the documents your team created.
Shareable
Our equipment inspection tool is not only easy to use, safe and environmentally friendly, but it is also very versatile and easy to share. Each form you create can be exported and made into a PDF form. 
You can then send it via email or another messaging platform. You can also use our company-wide online platform and make sure that everyone, from employees to managers, uses the same tool to complete the form, whether on a computer or on other devices such as smartphones. 
Easy to Get Help
If you get stuck creating a form, you can count on our Canadian team of representatives and our customer service to help you. 
If you have any questions during the creation of your form, you can call our technical support team who are here to help you. It's free!
Learn More About Our Equipment Inspection Forms
Can the Form be Filled Out Even If There Is No Cellular Network?
For now, you must have access to a cellular or Wi-Fi network to complete or create forms. Eventually, we will be able to provide an offline solution, but for now we must rely on a secure Internet connection.
Ready to get started with TurboFormZ Equipment Inspection Forms?
Call us or click start to get started.
Can the TurboFormZ Audit Form be Used as a Workplace Inspection Tool?
Absolutely! The TurboFormZ checklist form can be used for any type of survey, quiz, or checklist you want to create. It can be used for field checks, head office follow-ups or public policy. The possibilities are endless and depend entirely on you and your company. 
Anyone can use it, from commercial facility operators to healthcare workers. Whatever your field, you need forms to make your job easier.
How Do Equipment Inspections Help Increase Profitability?
Inspections are primarily used to ensure the condition of the equipment. They are also a cost-saving measure. Proper inspection ensures compliance, but also avoids replacement of equipment, which is always cheaper than repair and maintenance. Vehicles and equipment that are not inspected regularly will result in a backlog of repairs, and any equipment that is not used immediately loses value and its quality deteriorates further.
Maintenance software is implemented for safety reasons, but it is also used to ensure the profitability of the equipment. Failure prevention is one of the main benefits of regular inspections; if there are no accidents on site and no emergency replacements, there are no new (and usually expensive) unexpected expenses. The inspection report shows that the site is well organized, which increases its profitability.
Fewer workplace injuries means fewer costs for employers
Safety inspections have always been at the heart of prevention and safety management. It is essential to ensure that health, safety and potential hazards are implemented and established in any area.
Inspected equipment has a much longer life span. The failure period is the amount of time between when something is faulty and when it breaks down. In the inspection process, a default is when an asset continues to function normally, but there are signs that something is wrong. When an asset does not perform its intended function, it is called a breakdown.
The problem with the failure period is that it is almost impossible to determine when the breakdown will occur. This makes it very difficult to determine when to fix a problem once it has been detected. Regular inspections are important because they prevent equipment from breaking down, thus avoiding high costs and potential health and safety violations.
Compliance with Laws and Regulations and Protection of Liability
Any location with safety and security potential requires compliance and maintenance of strict regulations to avoid heavy fines or worse, whether it's mining, heavy equipment or oil and gas. A well-executed inspection plan revolves around compliance and equipment maintenance, which will not only reduce future costs, but also avoid unexpected damage or fines.
If there are laws regarding the maintenance and upkeep of equipment, they must be followed. Failure to do so could result in tremendous risk and danger in the workplace. Inspectors typically check the operation of the equipment and address any outstanding or unresolved issues. They may also conduct a general inspection.
Proactive inspections are conducted based on sectoral strategic plans. Sectors and workplaces with high accident rates will be inspected first.
Do You Have Other Forms to Create for Your Business?
TurboFormZ specializes in many customizable forms for businesses of all kinds. Whether it's for equipment or vehicle inspections, safety inspections or checklists, gain productivity with our custom forms!